Charles Wilbur White (1918-1979)
Charles Wilbert White was born on April 2, 1918, to Ethel Gary, a domestic servant, and Charles White Sr, a railroad and construction worker, on the South Side of Chicago. White's mother bought him an oil paint set when White was seven years old, which hooked White on art and painting. White also played music as a child, studied modern dance, and was part of theatre groups; however, he stated that art was his true passion.
White's mother brought the young White to the Art Institute of Chicago, where he would read and look at paintings—developing a particular interest in the works of Winslow Homer and George Inness. During the Great Depression, White tried to conceal his art passion in fear of embarrassment; however, this ended when White got a job painting signs at the age of fourteen. Since White had little money growing up, he often painted on whatever surfaces he could find including shirts, cardboard, and window blinds. White later learned how to mix paints by sitting in on an Art Institute of Chicago painting class that was taking place at a park near his home in Chicago.[2]
White did not graduate from high school, having flunked a year due to his refusal to attend class. Despite this, White received a full scholarship to be a full-time student at the Art Institute of Chicago. While in school, White cited Mitchell Siporin, Francis Chapin, and Aaron Bohrod as his influences. To pay the costs of materials in art school, White became a cook, using his mother's instruction and recipes. White later became an art teacher at St. Elizabeth Catholic High School to pay for his material costs.[2] White also began working as a Works Progress Administration artist.
Following his graduation from the Art Institute of Chicago, White moved to New Orleans in 1941. He taught at Dillard University and was briefly married to famed sculptor and printmaker Elizabeth Catlett who also taught at Dillard. Beyond this, White also taught at the Otis Art Institute from 1965 to his death in 1979.[3]
Following his first show at Paragon Studios in Cincinnati in 1938, White's work was exhibited widely throughout the United States, including, among many others, exhibitions at the Roko Gallery, the Boston Museum of Fine Arts, and the Whitney Museum of American Art. White also showed at the Palace of Culture in Warsaw and the Pushkin Museum. His work was featured in Two Centuries of Black American Art, LACMA's first exhibition devoted exclusively to African-American Artists.[4]
White's best known work is The Contribution of the Negro to American Democracy, a mural at Hampton University[5] depicting a number of notable blacks including Denmark Vesey, Nat Turner, Peter Salem, George Washington Carver, Harriet Tubman, Frederick Douglass, and Marian Anderson. White was elected to the National Academy of Design in 1972.
White's works are currently held at a number of institutions, including Atlanta University, the Barnett Aden Gallery, the Deutsche Academie der Kunste, the Dresden Museum of Art, Howard University, the Library of Congress, the Metropolitan Museum of Art, the Minneapolis Institute of Art, the Oakland Museum, the Smithsonian American Art Museum,[6] the Nelson-Atkins Museum of Art and Syracuse University. The CEJJES Institute of Pomona, New York, owns a number of White's works and has established a dedicated Charles W. White Gallery.[7]
Bio courtesy of www.wikipedia.org. Link to full bio: https://en.wikipedia.org/wiki/Charles_Wilbert_White
The Open Gate
Graphite on paper
28 1/2x20 1/2 inches
1949
Signed and dated
Photo credit: John Wilson White Studio
Fulfillment
Oil on canvas
61x18 inches
1966
Signed and dated
Photo credit: John Wilson White Studio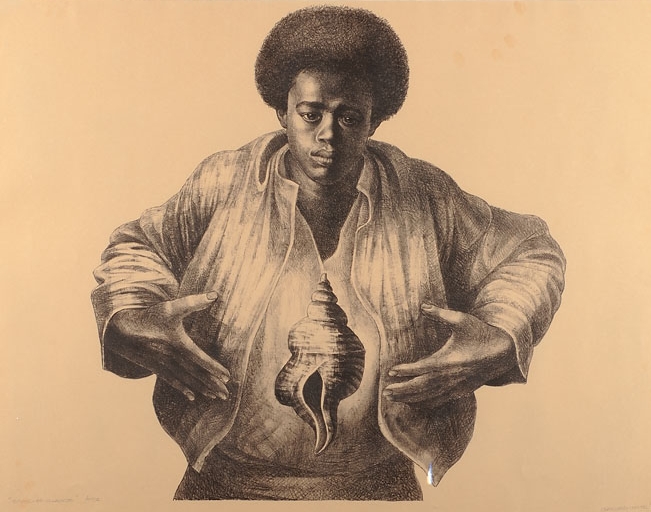 Sound of Silence
Lithograph
25x25 1/4 inches
1978
Signed and dated
Photo credit: John Wilson White Studio